~ Are you ready to use your intuition, healing or energetic abilities to help yourself...and maybe others too?
~ Would you like to be able to say "No" and mean it...and not feel guilty?
~ Do you feel the pain and/or emotions of others?

Intuitive Energy Coaching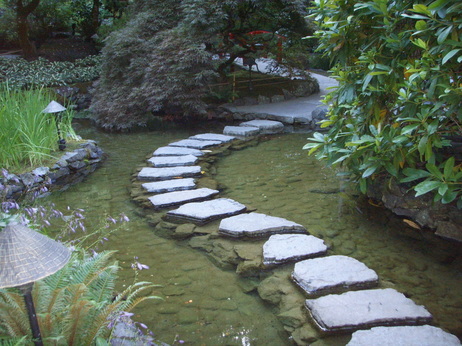 Oriental Garden at Butchart Gardens, Victoria, Vancouver Island, BC.
In addition to being a massage therapist I am also an Intuitive Energy Coach, also called a "Life Coach". Coaching is an effective tool to help you work toward your goals and dreams. Any goal/issue can be aided with coaching; my specialty is working with healers, caregivers and empaths who are ready to let go of fear and overwhelm in order to JOYFULLY embrace their wholeness. To learn to trust their innate wisdom, personal power and compassionate nature will be more than enough to equip them SAFELY on their Universally supported path.
I use powerful energy tools to help you achieve your goals and get where you want to be. This is important because it can help empower you to make your life much easier. I teach YOU how to use these energy tools, which you can use in your life forever.
Please visit the
Intuitive Energy Coaching FAQ page
for more information.
"What an amazing coaching session. I had been experiencing a lot of anxiety and fear over my upcoming move and life changes in front of me. Susan's coaching & guided relaxation and imagery talent was able to get me centered, focused and balanced again to be able to "not sweat the little stuff" that had been consuming me and blocking my own creative abilities and motivation. I had never thought I could relax and release over the phone, but it was more confirmation that the Universal energy of a trained and loving coach can accomplish anything. I highly recommend Susan's classes and coaching experience."
~Jodi Martin, New Smyrna Beach, FL
---
| | |
| --- | --- |
| Listen to Susan and two other Essence Coaches on a 2012 episode of "Meet the Coaches" on Blog Talk Radio. Learn about Susan and hear some laser coaching sessions. | |
Disclaimer: Energy healing is not a substitute for medical treatments or your health care provider. Energy healing can be used safely with any medication, not replace it. If you need medical assistance, please contact your local health care provider.