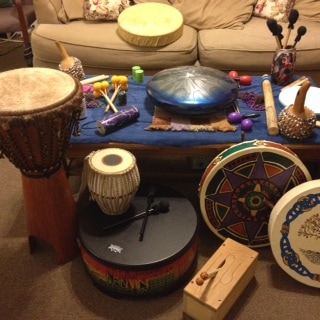 DRUM CIRCLES at Parastudy in Delaware County, PA
~ The second Saturday of each month from 7pm-8:30pm at Parastudy in the Media/Glen Mills, PA area.
UPCOMING 2018 Circles: April 14, May 12, June 9 (tentative), no circles in July/August, September 8, no October circle, November 10, December 8
Play time for grown ups!
Allow the power of percussion to fill and surround you, nurturing you and connecting you to the potency of Mother Earth. No drumming experience is necessary to join the circle, and Susan has plenty of extra drums and other instruments to share if you have none of your own.
Where: Parastudy, 354 Valleybrook Rd, Chester Heights, PA (off Baltimore Pk/Route 1 between Media and Glen Mills, PA).
Parastudy will be on your left if you are coming from route 1. If you get to a traffic light, you have gone about 2/10 of a mile too far. A picture of the building is below. Look for two lion statues at the end of the driveway. There is a parking lot behind the building.
When: Second Saturdays from 7pm-8:30pm. Doors open at 6:30pm.
Energy Exchange: for Members of Parastudy: $15 or for non-members: $20 Cash only please.
Who: everyone welcome! No previous experience required.
What to bring: A drum or other percussion instrument if you have one...Susan will have plenty of extras to share if you don't have one.
Each month's circle will focus on whatever theme is up on the planet or with the group.
2018 schedule (in case of inclement weather please check www.Parastudy.org, scroll down the homepage...there will be a notice if the event is cancelled...Susan will not go out in snowy/icy conditions):
April 14
May 12
June 9
September 8
November 10
December 8
---
---