Spiritual Hygiene Self Care TIPS from Susan

Breathe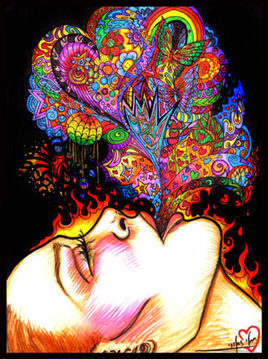 Quick exercise from Susan: Take a deep breath. Focus on your body and take another breath, allowing your lungs to expand more ...then take a third even deeper breath with your eyes closed. Focus on your body, and notice how you FEEL. Not in judgement of what you want to change, but to check in with how you feel in space and time right here, right now. Receive another deep breath and as you exhale allow your body to relax and let go of tension. Keep breathing and noticing your body, your emotions, your thoughts.

Self care is a term that has received a lot of attention lately, and it's definition varies depending on whom you ask. I suggest asking yourself: "What do I need?", "What will support me right here, right now?" or "Support me this week?". You are the greatest resource of information on knowing what YOU need; the trick is to relax, and put all of the "I should" and "have to" ideas in your head on mute for a few minutes and just tune into you. The breathing exercise above can help, try it!

---
Get Outside in Nature

Even if you only have a minute, there is immense value in getting outside.

Go out into nature:

take a deep breath (or several)...smell the fresh air

allow the air to blow around you

walk/lay in the grass (barefoot if possible)

move your body (stretching, yoga poses or just a brisk walk is beneficial)

let the rain/snow fall on your head and imagine it clearing your body and field

imagine you can breathe in the sunshine directly into your cells


Trust YOUR Instincts!

---

Tap In to Your Creativity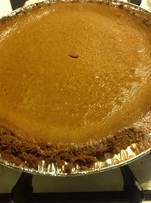 Have you ever felt stuck? Energetically stuck, emotionally stagnant, physically lethargic, etc? One of my favorite ways to get the energy flowing and get un-stuck is to do something creative. This is the energy in which I've created some of my Sprays, Baths and Shampoos...but my favorite way to tap into my creativity is to play in the kitchen.

This is a recipe that I came up with while tapping into my creativity. It's one of my favorites...in fact my mom says never go back to the old way again. Since Thanksgiving is upon us, I thought I'd share. Enjoy!

Susan's Pumpkin Pie with Spiced Wafer Crust
Adapted from the Libby's Recipe. I used to use a graham cracker crust, and heavily spice the pie, and it was delicious. Then fall came and that orange and black cookie box inspired me. This recipe makes 2 deep dish pies. Bake any leftover filling in ramekins, YUM!

Prepare Spiced Wafer CRUST First
42 Spiced wafer cookies (the really crunchy ones that only come out in the fall in the orange and black box)
1 and 1/2 stick unsalted Butter, melted
In food processor pulverize cookies into crumbs, then add melted butter. (I do this in batches...14 cookies at a time and 1/2 stick butter; since my processor is small.) Mixture will look like wet sand. Press mixture into pie pans, use cup or something flat to press mixture flat into pie pans...recipe makes 3 small or 2 large crusts. Bake pie shells in 350 oven for 10 minutes. Then set aide to cool.

FILLING
1 and 1/2 cups sugar
1 teaspoon salt
2 (rounded) teaspoons cinnamon
1 (heaping) teaspoon ground ginger
1/2 teaspoon ground cloves
1/4 teaspoon ground nutmeg
4 large eggs
1 can (29 ounce) pumpkin puree
2 cans (12 ounce each) Evaporated Milk

In a small bowl sift the spices into the sugar and the salt. In a large bowl beat eggs, then stir in spice/sugar mixture and pumpkin until well combined. Add evaporated milk slowly while stirring. Put pie pans on cookie sheets and pour filling into shells. Bake in preheated 425 oven for 15 minutes. Then reduce oven temp to 350 and bake 40-50 minutes or until knife inserted near center comes out clean. Cool on wire rack for at least 2 hours before cutting and/or refrigerate. ENJOY!

---
Get in the Habit!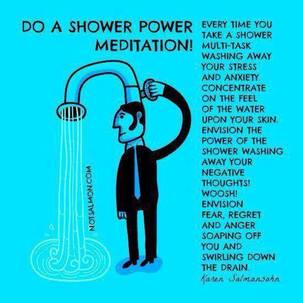 Do you have trouble remembering to do your clearing work? Find something that can be a trigger to remind you to clear your energy.

Because I wash my hands between each client I see (sometimes multiple times) I have gotten into the habit of using water as my trigger to remember. Each and every time I turn on a faucet, whether it be to wash my hands, do the dishes, water the plants or take a shower I do some energetic clearing on myself...and sometimes my home. Often I add in invoking AA Michael to bring in his 5th dimensional portal to raise the vibration of the water and take the clearing to a deeper level.

I let the faucet be the trigger that reminds me to clear energy regularly...what can be your trigger to remind YOU???
---

Create Space that Supports YOU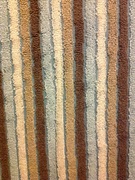 Susan's Hand Towel
Where do you spend a lot of time? Kitchen, bedroom, bathroom or even your car? Does that space welcome you and uplift your heart or soothe your mind? Make it a priority to create a space that supports YOU.

The room I'm in and out of the most in my house is my bathroom, I'm in there at least once an hour when I'm working to wash my hands...and for an hour or more at a time when I take salt baths. This room while small and modest has some touches that feed my soul; velvety soft towels in calming colors, floor mats with foam in them to support my body and scented hand soaps that remind me of happy times. Simple and inexpensive, these small touches really uplift me every time I enter this room.

What small changes can you make to shift the energy and create a space that you love that also supports YOU?



---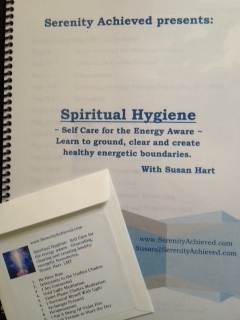 Spiritual Hygiene Booklet and CD Set
Full color Booklet with graphics AND a 10 track audio CD with recordings meant to help you integrate some of the techniques in the booklet. CD includes a channeled chakra clearing meditation from Susan Hart. This set is part of the Spiritual Hygiene class that Susan teaches, now available to be purchased separately for a limited time. Price includes shipping and handling to the continental US. Contact
Susan
directly for international shipping rates.